It is the role of an equine chiropractor, such as myself, to work on the mechanics of a horse's skeleton, with particular attention to the spine.
The history of animal chiropractic can be traced to Daniel David Palmer all the way back to the late 1880s. DD Palmer – as he was known – is recognised as the 'father' of chiropractic methods. He developed the theory that spinal mis-alignment was to blame for many ailments that affected broader aspects of health.
Modern chiropractic treatments therefore have a legacy stretching back well over a century. There are two main areas of expertise when it comes to equine chiropractic.
The main one is spread worldwide and has developed mainly in the United States.  It uses different technical approaches involving light and stronger mechanical thrusts and this is the technique I practice mixing my experience in osteopathic and chiropractic techniques.  In the UK a second approach is quite common in the equine field but limited to this country and is known as McTimmoney.  Those chiropractors are only using a very soft approach.
Equine Chiropractic Conditions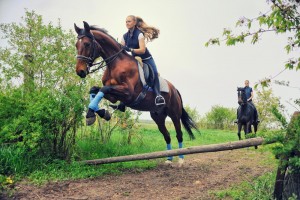 Lameness can often occur for reasons that normal veterinarian treatments are unable to diagnose. The consequences of lameness can lead to mechanical imbalances for your animal.
Preventative measures are often the best way of ensuring that your animal is performing effectively at all times. In both the racing and eventing realms, trainers and owners alike work with equine chiropractors to ensure the best for their animal. A competitive horse has to endure a great deal of stress on their skeletal structure, from the impact of jumps, sharp turning and carrying a rider. Injuries are very common, but a great deal of these injuries result from small ailments and issues that are not noticed until they seriously impair an animal's ability to perform. By using chiropractic treatments, a horse's owner is able to lessen the stresses and strains on their animal's joints and ligaments by ensuring their spine is correctly aligned.
Behavioural issues are often influenced by continual pain and discomfort, usually as a result of spinal and hip problems. Such issues include a lack of response to training, an inability to learn, lack of socialisation skills and bucking. Chiropractic can help solve behaviour problems, and to improve energy levels and responsiveness.
If you are a horse owner, then please call us at London Equine Chiropractic on , or . Even if you feel there is nothing amiss with your animal, engaging the services of an equine chiropractor will help your horse maintain essential levels of health, reduce any levels of pain and discomfort your animal may be experiencing, and to prevent minor issues from becoming serious ones.